Grateful Dead Meet-Up At The Movies 2023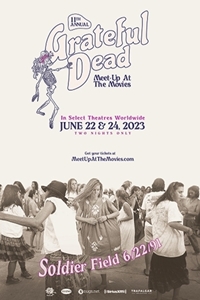 Movie Information
Release
June 22nd
Genre
Concert / Program
Runtime
3:10
Cast
CRAZY FINGERS
Synopsis
A year after Brent Mydland's passing, the Grateful Dead returned to the summer stadium circuit, with two keyboard players filling the seat Brent left vacant. Bruce Hornsby and Vince Welnick's presence and musical contributions reinvigorated the revitalized the Grateful Dead, and the inspiration of the Dead's playing was palpable. On a Saturday night in front of 60,000 fans, the Dead played what is often considered one of the greatest shows of the Bruce-Vince era, up there with the second Giants Stadium show from a few days earlier.



CRAZY FINGERS
At 9:30 to 11:30pm

July 1st at Movies of Lake Worth only After the Movie the Band CRAZY FINGERS performs.

Come enjoy the vendors and see whats shaking on shake down street.